Team
Patrícia Villela Marino holds a law degree from the School of Law at Mackenzie University (Brazil), and attended the philanthropy and third sector course at the John F. Kennedy School of Government at Harvard University. In the past few years, she has led initiatives that focused on strengthening human rights, civic-social entrepreneurship and citizen empowerment. In addition to being the vice-president of the PDR Institute and president of the Humanitas360 Institute, she is also a member of the founding council for the Global Shapers program – a World Economic Forum initiative, which aims to stimulate attitudes and projects to promote social transformations. Marino also founded and provided leadership to the Latin American Platform on Drug Policy (PLPD), an initiative supported by former President Fernando Henrique Cardoso (Brazil) and former President César Gaviria (Colombia), which created a platform for experts to discuss drug policy and promote innovative public policies. Patrícia is also a member on the advisory board for the Biennial of the Americas, an initiative launched by Governor John Hickenlooper of Colorado. In 2011, Patrícia received the POWER Award – ABC Business Awards for the Social Impact category, and in 2016, she received the BRAVO Business Award in the Humanitarian of Year category.
Piero Bonadeo has over 15 years of experience in international organizations. In 2014, Bonadeo became a representative for the United Nations Interregional Crime and Justice Research Institute (UNICRI), located in Rio de Janeiro. Previously, he worked at the United Nations Office of Drugs and Crime (UNODC) in New York, acting as a facilitator in various negotiations of corruption, terrorism, drug policy, and international organized crime. Between 2004 and 2010, he worked as a representative and head of the UNODC in Brussels. Bonadeo also had the opportunity to work as cabinet chief in a section of the European Parliament dealing with legislative issues related to public health, consumer protection, transparency in public institutions, the budget of the European Union, among others. Bonadeo studied at the University of Turim (Italy), holds a master's degree from Societa` Italiana per le Organizzazioni Internazionali (SIOI) – linked to the Ministry of Foreign Affairs in Rome, and has a master's degree in public administration from the IESE Business School and John F. Kennedy School of Government at Harvard University.
Ricardo Anderáos is a journalist, social entrepreneur and environmentalist. Anderáos worked as a reporter and editor at the Brazilian newspaper Folha de São Paulo and O Estado de São Paulo, and as the editorial director at the newspaper Jornal Metro. He also worked as a columnist at several radio stations, including BandNewsFM and Eldorado FM, and at the magazine Carta Capital. In the field of digital platforms, he worked as the webmaster at UOL, new media manager at Itaú Cultural, executive director at Estadão.com, online business director at Bandeirantes Corp and digital media director at MTV Brasil. Before joining the Humanitas360, Ricardo was the editorial director at HuffPost Brasil, social media director at Abril Group and vice-president of innovation at Ashoka. In Ilhabela, Brazil, Ricardo organized a network of environmental organizations and created a native trees nursery called "Viva Floresta." He was a representative of civil society in the organizations if the Environment State Council of Sao Paulo. Anderáos holds a doctorate in Social Art History from the University of São Paulo.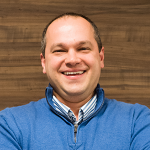 Alessandro holds a bachelor's degree in Business Administration and MBA in Accounting Sciences from Fundação Getúlio Vargas. For sixteen years, he made his way through the corporative world, working at multinational companies such as Natura, Avon, Vivo and Claro. Using his organizational and business skills, Alessandro works with financial consultancy and helps new businesses to structure their projects, finding points to be improved and creating business solutions.
Melissa holds a postgraduate degree in Psychopedagogy and a bachelor's degree in Communications. She started out her professional career as pre-school teacher and later worked as a psychopedagogue, also doing volunteer work in the same field as she attended to children in vulnerable situations. Moreover, Melissa has extensive experience in the organization of events in internal communications, having worked at Itaú Cultural for several years. She joined the Humanitas360 team as Executive Assistant to the president.
Diana holds a certificate in Tourism and is currently doing a Bilingual Secretary Training program. She has extensive experience in corporate and institutional events having had worked as an assistant in multinational companies such as Visteon Automotive Systems, Hertz Rent a Car and McCain Foods. She joined Humanitas360 team to provide assistance to the president and project managers.
Bruna began her career at the early age of 16. Miranda went on to obtain a degree in business administration on a full ride scholarship. Miranda has used her administrative and financial background in many different industries including accounting firms and the food industry. Miranda joined the Humanitas360 Institute when the institute was expanding and assisted the institute's institutional and financial growth. In her free time, she enjoys cooking and decorating.
Tatiana is driven by her curiosity which led her to pursue a career in communication and journalism. Almeida holds a bachelor's degree in communication and journalism, and a master's degree in organizational communication. In addition to her academic background, she has extensive professional experience in organizations dedicated to national and international development. Almeida's passion for education also led her to pursue experience as an academic teaching assistant for English and communications. Additionally, she has volunteered for educational projects targeting children and vulnerable immigrant communities. Almeida believes communication is a powerful tool to generate positive impact and transformation for society.
Luíza is close to graduating in Cinema at the University of São Paulo (USP). She has already worked as a photographer and videomaker for the D-Lab Project of the Massachusetts Institute of Technology (MIT), during an expedition to the Amazon forest, where she was astonished by the power of cinema to bring about change. Luíza also produced and worked as videomaker in a documentary recorded in Haiti. She was the sound recordist for the film Folego (2015) and boom operator for the film Montaña Blanca (2014). Nowadays, she is the videomaker at the Humanitas360 Institute.