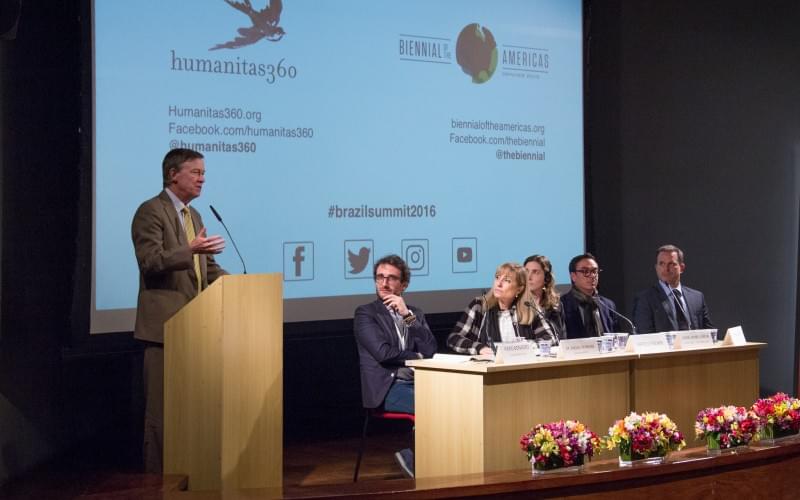 Governor John Hickenlooper (standing on left side) speaks during one of the panels during the first day of the Biennial of the Americas Summit. Sitting from left to right: Piero Bonadeo, Dr. Raquel Peyraube, Katiele Fischer, Judge Jayme Garcia and Jordan Lewis.
The Biennial of the Americas 2016 Summit took place in June, bringing the Governor of Colorado, John Hickenlooper, the Mayor of Denver, Michael Hancock, and a delegation of 50 business leaders from Colorado to São Paulo and Rio de Janeiro. The summit, organized in partnership with Humanitas360, was an initiative formed from the Biennial's desire to explore Brazil's economic, political and cultural landscape, as a mean to fulfill their mission of connecting business, cultural and civic interests from throughout the Americas by building lasting relationships and inspiring action through dialogue and art. The program included several activities such as panels that discussed the Olympic Games legacy and visiting vulnerable communities, which allowed participants to engage with the country's socioeconomic reality first-hand.
The summit began Tuesday, June 21st, with a series of panel discussions at the Museum of Modern Art São Paulo (MAM), and included a discussion on drug policy and the justice system, with experts and pioneers in the field. Following an opening by Governor Hickenlooper, who led Colorado in the process of becoming the first US state to regulate the market of cannabis, strategies to address drug policy were moderated by Humanitas360 Vice-President, Piero Bonadeo, previously a Deputy Representative of the United Nations Office on Drugs and Crime (UNODC), and discussed with experts such as Dr. Raquel Peyraube, an advisor in preparing the Uruguayan cannabis regulation bill; Judge Jayme Garcia from the state of Sao Paulo; Jordan Lewis, a business entrepreneur in the cannabis industry in Colorado; and Katiele Fischer, whose activism for access to medicinal cannabis for her daughter with CDKL5 disorder helped change federal law in Brazil, categorizing cannabidiol as a controlled substance versus prohibited. Katiele's efforts and the efforts of other mothers of children with CDKL5 disorder were documented in a documentary named "Ilegal", which has recently has been released on Netflix.
Other panels focused on issues such as the opportunities that lie within sharing private sector management knowledge with city governments, and transparency and sustainability in public administration. Further, former senator and former presidential candidate Marina Silva spoke on creating a future of sustainable development for Brazil.
The trip followed with several gatherings, talks and discussions aiming to showcase the current state of the country in regard to its economy, entrepreneurial landscape, culture and social reality. The delegation also went to venues and social projects such as the Espaço Criança Esperança (freely translated Hope for Children Space) at the top of Cantagalo community in Rio de Janeiro, which is a center that offers complimentary sporting, educational and cultural activities to community children.
The summit participants were able to engage with specialists and entrepreneurs from a wide range of fields such as Brian Winter, editor-in-chief of Americas Quarterly, Caio Megale, the chief economist at Itaú Unibanco, Regina Esteves from Comunitas, Raull Santiago from Coletivo Papo Reto (freely translate as Straight Talk Collective), Neca Setubal, president of Tide Setubal Foundation, and Erin Trapp, CEO of the Biennial of the Americas.
The program, which was split between São Paulo and Rio de Janeiro, also included the participation of Marcos Vinícius de Campos from RAPS, Eduardo Campos, current mayor of Pelotas (RS), Firmino Filho, current mayor of Teresina (PI), Renato Meirelles from Locomotiva Institute, Rafael Dragaud from Globo TV, Antônio Tiburcio from Atitude Social (translated as Social Attitude), Paulo Rogério from Mídia Étnica Institute (translated Ethnic Media Institute), Germano Guimarães from Tellus Group, and Georges Grego from Ilhabela Sustentável Institute (translated as Sustainable Ilhabela Institute).
Humanitas360 looks forward to exploring other opportunities with the Biennial of the Americas as it continues to foster its mission of empowering citizens throughout the Americas.