We mapped the main civic technologies for social control in Latin America. In addition to Promise Tracker – a project by Humanitas360 and partners – several tools are available to Latin American citizens to help them participate and interact more effectively with their governments. Below you can check the platforms we selected.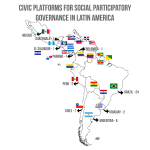 Argentina:                                         Brazil:                                            Brazil:
Cambiemos                                     As Diferentonas                              O cidade linda
Caminos de la villa                          Cidade Democrática                       O cidadao online
Dinero y Política                              Cidadera                                         O vigilante
Gasto Público Bahiense                 Cidadão 10                                      Panela de pressão
Democracy OS                              Cidade legal                                     Para onde foi o meu dinheiro? 
Mejoramos Juntos                         Colab.re                                           Pelas Ruas
Partido de La Red                         Cuidando 2.0                                   Promessômetro
Reporte un Problema                  Cuidando do meu Bairro                   TakeVista
Chile:                                           De olho nas metas                            URBOTIP
Del Dicho al Hecho                      EUVOTO                                         Mexico:   
Colombia:                                    Fala Cidadão                                   Tus Diputados 
Cuestiona.me                              Legislando                                       Mejora tu escuela
El Salvador:                                 Monitorando a cidade                     Panama:
Alertux                                        MyFunCity                                      Inspector Ciudadano
 Peru:                                         Mudamos                                        Guatemala: